Scholarship Recipient: Amanda Barnes – Around the World in 80 Harvests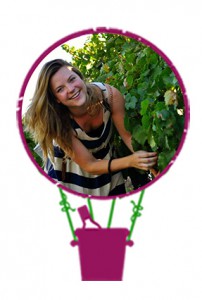 Meet Amanda Barnes, creator and editor of Around the World in 80 Harvests, a wine blog chronicling her travels visiting 80 wine regions around the world. The name of her blog is a nod to the adventure novel by Jules Verne, Around the World in 80 Days.
This year, Amanda is the recipient of the Rodney Strong Wine Blogger Scholarship, specifically awarded to a digital writer who exhibits quality, quantity, consistency, and a community spirit.   This is the 2nd Annual Rodney Strong award, and we are excited to have this strong relationship!  The first recipient was Matt Mcginnis (2015) from Texas, and we look forward to our continued relationship.  Stay tuned for more in the Rodney Strong Scholarship!
An award winning freelance writer, Amanda moved to South America in 2009 to follow her curiosity and passion for wine. "What I love about wine is that its origin and impact has so much reach: nature, science, art, culture, history, and travel," says Amanda. "The list of potential subjects is almost endless, which gives you a lot to write about – much more than just the bottle in your hand!"
In 2012 and 2013, Amanda was the runner up for UK Young Wine Writer of the Year Award, and runner up for the Great Wine Capitals Blogger of the Year award. She is also a member of the UK-based Circle of Wine Writers.

Today Amanda focuses on sharing the stories of the wines, winemakers and wineries of Chile and Argentina. This includes providing content for Oz Clarke's Pocket Wine Guide and Hugh Johnson's Pocket Wine Book among other publications.
"It's my first time attending a Wine Bloggers Conference and I can't wait to meet other bloggers and learn about what is exciting in their wine markets right now. Wine blogging is a niche and it is inspiring to meet other like-minded bloggers in this growing community."
Connect with Amanda online at her BLOG and on TWITTER.
Editor's Note:
We are so excited to welcome our international bloggers this year, Julien and Amanda!  We can't wait to meet you and show you all about WBC!